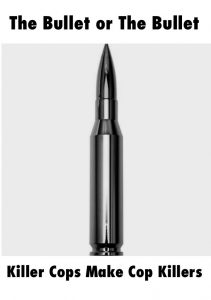 The latest text in our bootleg series, 'The Bullet or The Bullet- Killer Cops Make Cop Killers' Is taken from the "Thought Box" section from the Guerilla Funk Recordings website and is claimed by Paris. The text offers a sweeping critique of racist policing tactics in the U.S.A. and proposes a radical and armed response to the seemingly endless tole of murders against Black and Racialised people by the police. The text also proposes a critical engagement against liberal and pacifist trajectories which uphold the belief that non violence is a viable tactic in the face of an institutionally violent, racist, and heavily armed adversary. The second half of the text, offers some basic suggestions on how to engage with the police in situations of detention, arrest and search; although many of these suggestions may not be relevant outside of the specific context in which they were written, we have made the editorial decision to include them, both for the sake of not editing the original text and further because some sections may be useful in many contexts.
Quotes From the Text:
"We've voted. We've marched. We've trusted in the System. Joke's on us. It's all fun and games 'til somebody gets hurt…"
"I reject that. And many others do too. So what's the proposed solution?
Armed resistance against unwarranted aggression.
It's the elephant in the room and needs to be seriously considered by those of us who value our lives and the lives of our loved ones. Malcolm X said that selfdefense is common sense, and that's a credo we should all stand by. Can't take cops to court? How about court in the streets?
We're dying anyway. And I've said it a thousand times
the only language America speaks and understands is
violence especially as it relates to people of color and
those on the lower rungs of the socioeconomic ladder.
Maybe we should talk."
PDF HERE: Bullet