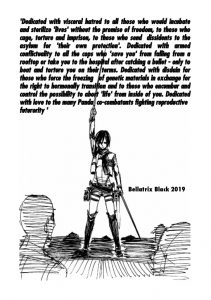 [UPDATED]
When one 'lives' eternally in a cage, when the possibility of mortality is piece by piece stolen and the terrifying reality of an 'immortal humanity'
comes closer every day, when being kept barely alive by this world is the cost of existing at all, and when all possibility of realizing the tiniest freedoms, the possibility of actually living, is stolen on the premise of keeping you safe, there can be only one demand to make of this nightmarish reality…. LET. ME. DIE.
Let. Me. Die (Pandas Technology and the End of the World) is a new original text in our distro from Bellatrix Black- the text takes the imaginary character of the Panda and it's fight against enforced reproductive futurority at the hands of humans as a theoretical base-point for understanding the totality of the horror we are all trapped inside of. With limited actual reference to pandas, it addresses questions of death vs "Immortality", the impositions of technology and the brutal world it imposes, the war between those claiming to provide safety and those hoping to live dangerous, as well as a critique of the potential rise of Eco-Fascism or Techno-Fascism incubating inside the collapse of the current epoch.
Quotes From the Text:
"The maintenance of 'life' at the cost of living. Safe and protected from the dangers of the outside, is building tighter and tighter confinements as to what living means, the whole civilization becomes a 'life support machine' and in exchange we except to exist entirely comatose."
"Individuals of this epoch must face the fact that nowhere is 'safe', and that anyone promising to provide safety is in fact only (re)producing captivity."
"The technophiles and modern day prophets of climate change denial dream of emergent colonies on mars, humanist expansion with technological aid, new life born off planet but inside the same civilization[10]; whilst a haphazard brigade of similarly dreamy ideologues on the so called left[11] fight an increasingly meaningless discursive battle against extinction- preaching moderation and 'ecology' in the name of continuing the species."
"To allow oneself to dream of a self after society is almost as dangerous as dreaming of a society after society- No Future is not merely an expectation or an understanding of the current reality; but also a direct threat towards it."
PDF HERE: letmedie